At Irlbeck Precision Surfaces, we specialize in custom stone work and hassle-free service. We inspect, measure, and install your decorative finish wih a quick turnaround. If you need new fireplace, kitchen or bathroom, you've come to the right place. We offer a large selection of marble, tile, quartz, and granite to accent every room of your home.
Kitchen/Bath Remodeling by Irlbeck Precision Surfaces in Carroll, IA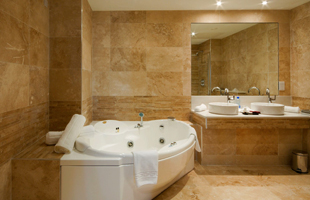 Surround your home or business with elegance by Irlbeck Precition Surfaces. Experience the instantly transforming effects of high-quality durable natural stone for your kitchen and bath remodel. We have the experience and equipment to deliver your beautiful one of a kind results with custom granite, marble, and quartz fabrication and installation at reasonable rates.
Countertops
Islands
Vanities
Shower seats
Front desk area
Planter and window sills
Bathtub and Jacuzzi surrounds
Give your home an edge when it comes time to sell. Create a more contemporary look in your home with an investment in long-lasting high quality stone works that will give your home a boost over the competition. You can be confident in our experienced craftsman to deliver outstanding results for your home, with a minimal amount of downtime in your kitchen or bath. Additional benefits of natural stone include:
Scratch resistant
Stain resistant
Heat resistant
Easy to clean
Durable material
Custom elegant look
Large selection of colors
Fireplace and Bar Installation in Carroll, IA
Have a warm and inviting fireplace
Get the elegant focal point you want in your home with a quality crafted surround fireplace. You can make a bold impression quickly with our professional service that is there every step of the way – from measuring and fabricating to installation of your superior look. We have a large selection to get your perfect custom fireplace for your long-lasting luxury.
Impress your guests with a luxury bar
You will love the one-of-a-kind look your custom bar will give to your home. You will love entertaining your guests on your durable premium cut indoor or outdoor bar. Our large selection of colors, quality workmanship, and quick turnaround will get you enjoying evenings and weekends again in your envious, polished new high quality bar.
Commercial Business Installation in Carroll, IA
Greet your customers with a welcoming entrance
Make your statement in your business the second clients and associates walk through your door with a custom reception desk. Your business will impress customers for years to come with an elegant reception desk. We have a wide selection of natural stone for every taste.
Stun your clients with a bold conference table
The look of natural stone cannot be beat. Your unique conference table will wow your clients and give you the space you need for your business. Your table will be a statement piece for your business that will work for you.
Have an elegant finish at reasonable rates. Call for your free estimate today!